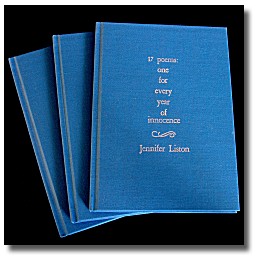 Although this post isn't about copywriting
per se
, it is about a style of writing that's special to me: poetry.
I'm very excited that the Hon. Michael Atkinson MP, Attorney-General, Minister for Multicultural Affairs, will launch my second collection of poetry on the 4 December at the SA Writers' Centre here in Adelaide.
Available now from White Wave Press,
17 poems: one for every year of innocence
is the first in a limited collection series.
This collection is particularly special because each edition includes an audio/mp3 CD of me reading the 17 poems. The CD also contains bonus readings of two poems from my first poetry collection,
Exposure
, which was published by
Ginninderra Press
in 2003.
Only 150 imprints of
17 poems: one for every year of innocence
have been created. Each one is numbered individually.
Each volume is printed on beautifully watermarked 190 gsm paper and exquisitely hand-bound by
Chasdor Bindery
, South Australia's most reputable book-binding specialist. The blue sun linen hard cover is embossed in silver with handset type.
This volume will make a delightful, unique gift to a friend, family member or loved one.
For only $35 plus postage and handling, this limited edition collection and bonus audio CD is a fine-quality gift which is a delight to include on any bookshelf, and is a 'must-have' for every poetry lover and discerning reader.
If you'd like more information about
17 poems: one for every year of innocence
, send an email to 17poems AT whitewavepress DOT com or visit
White Wave Press
.
I'm also thrilled that one of my poems was featured in the anthology
Poems in Perspex, Max Harris Poetry Award 2007
, which was launched at the SA Writers' Centre recently. That collection is available from
Lythrum Press
.
Remember, mind your language - even if it's poetry!