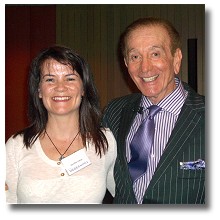 I was thrilled to have had the opportunity to attend the Dream Information Publishing Seminar presented by my mentor,
Ted Nicholas
, in Sydney this weekend. (That's me and him in the photo on the left.)
Ted is a gentleman and a living legend, arguably one of the best direct marketers on this planet. I met him for the first time in 2007 at Mal Emery's Silent Killer Seminar, although I'd read his information and known about him for a lot longer than that.
He ran out on stage, had us waving our arms in the air as we shouted affirmations to change our emotional states, and grooved with us to the Bee Gees.
He gave us his all over the two days. He provided phenomenal value in the depth and breadth of content, sharing his insights and thoughts not only about copywriting, but about life, health, wealth, and taxes!
I find that as a copywriter, it's vital for me to revisit regularly the essentials of emotional direct response copywriting, of which Ted is an absolute master.
Ted's enthusiasm and energy, as well as meeting and talking with other seminar attendees, reignited my excitement about copywriting and the power of compelling words. After working on a major editing project almost full time for the last nine months, it was great to be reminded of how satisfying it is to create copy and words that sell.
One subtle distinction which Ted made that really resonated with me was that sales letter copy must not only BE true, it must SEEM true. This is very much the case in a marketplace overloaded with large bold red headlines screaming promises of permanent cures and money making schemes.
The trick is to write the fine line between both.
Another great suggestion of Ted's was that sometimes a killer sales letter headline will be found among the testimonials provided by your customers.
Thank you Ted and Bethany.
And thanks also to all my fellow seminar attendees, who helped make the two days such a rewarding and memorable experience. I look forward to hearing from you and communicating soon.
In the meantime, don't forget to mind your language!